Specialist Suppliers of School Wristbands
Check out our new school supplier website:
for a streamlined ordering process
& a larger, specialised product range!
All prices for current wristband products, and company details remain the same.
(However, if you prefer; you can always feel free to order from this website as it will still be operating as usual)
Welcome to the UK's leading one-stop shop for school wristbands.
We supply school wristbands quickly, efficiently and at the right price.
Our school wristbands range includes
School Dinner Wristbands
, to help your school's meal system save on waste, become more streamlined and in turn, increase your school meals popularity & uptake.
Our School Trip wristbands give peace of mind when taking students on field trips, by providing a means of contact thats always at hand.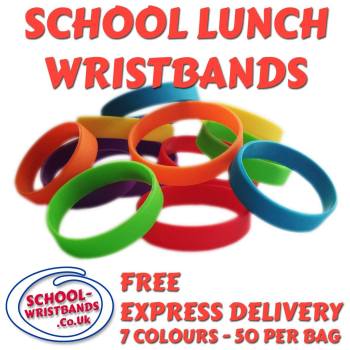 And reward students with our gold, silver & bronze award school wristbands to promote good attitude to learning and implement a reward system for your school.
We offer a range stock wristbands, (including our school lunch wristbands), that can be supplied in days and in quantities of just 50 wristbands.
And we can custom print school wristbands with your own message too & still deliver in around 6 working days!
So come to the school wristbands supplier that's been around since 1969 & experience just how easy ordering your school wristbands can be.
And importantly, our service is designed with schools in mind. We can accomodate your schools payment system whether you buy online, send a school cheque, run BACS payments of wish to pay for your school wristbands via your Local Authority.
We can also work deliveries around term dates & your school's closures. Either to diarise a date for your school wristbands delivery or offer delivery to a private addresses during holidays.